VAT Validation Tool
How to use the VAT Validation Excel Add-In
In this short video you will see how to bulk validate a whole list of VAT numbers in a single operation.
VAT Validation Tool
The Excel Add-In validates the VAT-IDs via the EU VIES system. Checking the validity of the VAT-IDs of your customers in Excel is advantageous compared to other methods when you need to validate many customers (or suppliers). Most ERP systems let you easily export the list of customers to Excel.
Once you have entered all the VAT numbers of your customers in column A, then all you need to do is to click the Check button and let the Add-In do the work.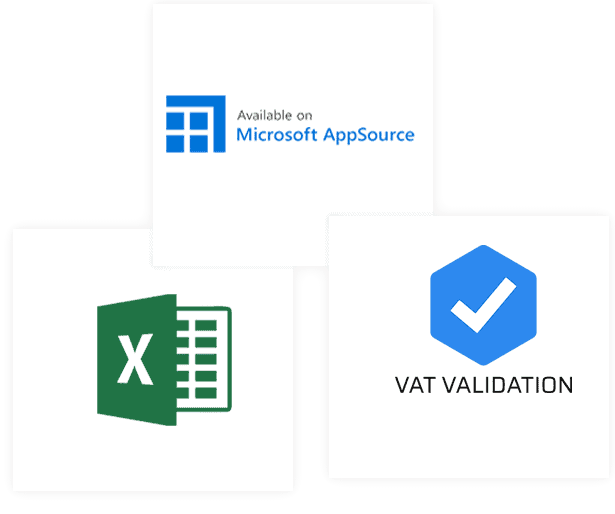 The results from the VIES system are shown in column B to F. Names of the companies and their addresses are as shown in the adjacent the sheet. You ca use this information to check whether you are trading with the proper business and whether you have the right address on file.
Do not forget to save the Excel sheet afterwards. This file can serve as documentation for your validation process in case you ever need to provide it to the tax authorities.
VAT Validation Tool
How to Install the Add-In
Installation is very easy. Just create an account by clicking below. The process will guide you on how to activate the button in Excel. If you have already created an account but simply need to know how to activate the Add-In then please login here.
Yes, you can open a free account and validate your VAT numbers straight away.
We do however, also have a premium plan that gives you more features and that removes some of the limits in the free version. You can upgrade your free account at any moment by clicking Manage Account on the top right corner of the Add-In.
VAT Validation Tool
The system uses VIES to query national registries. The national databases are however not always available 24/7. While the scheduled downtime is limited you could occasionally experience that the system will not let you validate all the VAT numbers in your list. If you see messages like 'Member country not available' or 'Too many requests', this simply means that the national database cannot give you an answer right now. You could try to validate your sheet again later. Please contact us if this is a problem for you.
Two countries, Spain and Germany, do not freely supply information on their registered companies. In case you are validating Spanish and German VAT numbers you will not be provided with an address but rather, an answer to whether the VAT number is valid. We are however working on a version that will let you know whether the address you have on file matches then one from the registry. Please let us know if you need this version. (e-mail to karsten@sanocast.dk)
This Add-In is compatible with all modern versions of Excel including Excel for Windows, Excel for Mac and Excel Online. If you experience problems then please let us know so that we can improve this service and give you a better user experience. Please also let us know if there are things you miss in this short guide. More videos will follow shortly.
We hope that the instructions provided above have shown you how to use the VAT Validation Excel Add-In. If not, please do drop us a line at info@sanocast.dk. For information, here is a useful article on various VAT checking solutions: Is this EU VAT number valid? You could also have a look here: Sanocast VAT Validation - Easy bulk VAT number check